In the realm of interior design and cabinetry, choosing the right materials for construction and finishing plays a crucial role in achieving functional and aesthetically pleasing results. One such material that has gained popularity in recent years is the 17mm white color hard surface Cabinet PVC foam board. This article delves into the features, benefits, and diverse applications of this versatile material.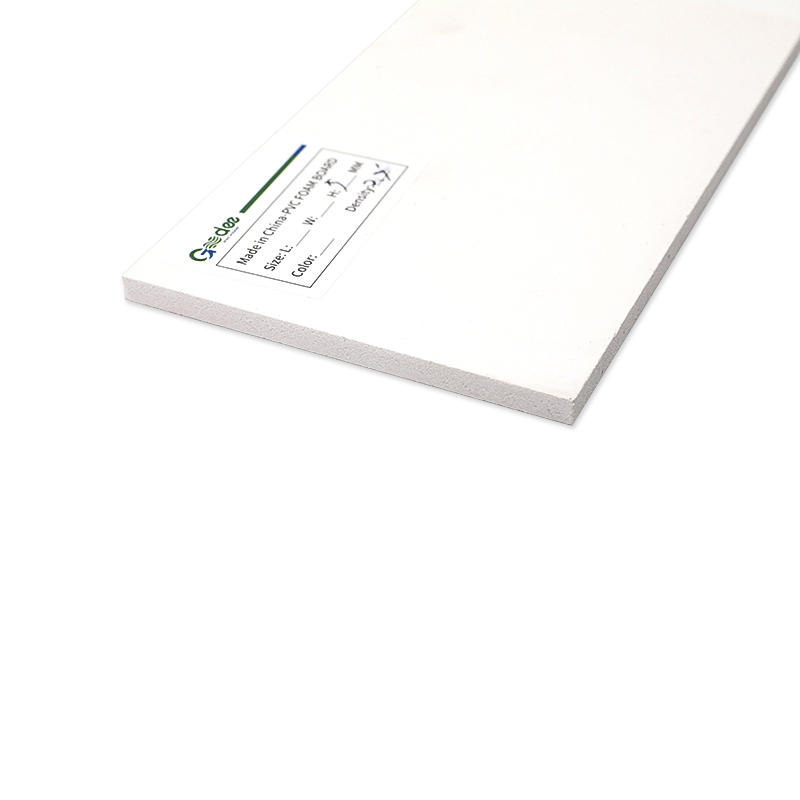 Understanding PVC Foam Board:
PVC foam board, also known as expanded PVC or forex sheet, is a lightweight yet durable material made from a combination of polyvinyl chloride (PVC) and foaming agents. The foaming process creates a structure with a closed-cell interior and a smooth, hard surface. This unique composition makes PVC foam board resistant to moisture, chemicals, and UV radiation while maintaining a low weight profile.
The 17mm white color hard surface Cabinet PVC foam board possesses several notable features that make it an excellent choice for various cabinetry applications:
a) Thickness and Sturdiness: With a thickness of 17mm, this foam board provides excellent structural integrity and durability, ensuring longevity and resistance to impact.
b) Hard Surface Finish: The hard surface of the foam board offers a smooth, white finish that can be easily painted or laminated to match any design aesthetic.
c) Moisture Resistance: PVC foam boards are inherently resistant to moisture, making them ideal for environments prone to humidity, such as kitchens and bathrooms.
d) Chemical Resistance: The board's chemical resistance enables easy cleaning, making it suitable for applications in commercial and healthcare settings.
e) UV Stability: The foam board is UV-stable, preventing discoloration or fading when exposed to sunlight. This property makes it suitable for both indoor and outdoor applications.
Benefits of Using 17mm White Color Hard Surface Cabinet PVC Foam Board:
a) Lightweight: The lightweight nature of PVC foam board makes it easy to handle and install, reducing labor costs and ensuring ease of transportation.
b) Versatility: The foam board's hard surface and paintability make it versatile for a wide range of applications, including kitchen cabinets, bathroom vanities, furniture, wall cladding, signage, and exhibition displays.
c) Dimensional Stability: PVC foam boards are resistant to warping, shrinking, or expanding due to temperature fluctuations or moisture exposure, maintaining their original shape and dimensions over time.
d) Cost-Effective: Compared to traditional materials like wood or solid PVC sheets, PVC foam board is cost-effective while providing similar structural integrity and visual appeal.
e) Eco-Friendly: PVC foam boards can be recycled, making them an environmentally friendly choice for cabinetry and interior design projects.
Applications of 17mm White Color Hard Surface Cabinet PVC Foam Board:
The 17mm white color hard surface Cabinet PVC foam board finds applications in a variety of settings, including:
a) Kitchen Cabinets: The moisture-resistant and easy-to-clean properties make it an excellent choice for kitchen cabinets, where durability and aesthetics are paramount.
b) Bathroom Vanities: Withstanding high humidity and maintaining its appearance, the foam board is ideal for crafting stylish and functional bathroom vanities.
c) Furniture: From shelves and bookcases to wardrobes and desks, the foam board's lightweight yet sturdy nature makes it an ideal material for constructing furniture pieces.
d) Retail Displays and Signage: The foam board's smooth surface and paintability make it suitable for creating eye-catching retail displays and durable signage.
e) Exhibition Booths: The lightweight characteristic of the foam board allows for easy assembly and transportation, making it popular for exhibition booths and temporary displays.